Register here to attend the National Aboriginal Network for Arts Administration Gathering 2010!

Indigenous Arts Network
Welcome to the Indigenous Arts Network/reseau d'artists autochtones!
more »

Becoming an ANDPVA Member!

A gathering of Indigenous Artistic Expressions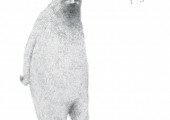 ANDPVA presents a new series of paintings by Travis Shilling. Join us for the opening at the Gladstone Hotel (3rd and 4th floors) on Thursday, February 10. You can meet the artist, view the paintings and listen to 60s grooves. (yes there will be Caramel Corn!)
How to Drown a Fish
A new series by Travis Shilling
Thursday Feb. 10 7 - 9 pm
Travis Shilling could almost be called a paint chronicler. He captures the hidden in the visible––aftereffects and fallouts from events real and imagined. Shilling's series How to drown a fish, marks out territories of disaster and survival. Asking how one drowns a fish is asking the impossible because human and animal alike always adapt to inner and outer hardship. Still, people try to drown a fish everyday, through damaging the environment or self-destruction. A filmmaker and playwright, Travis' work reflects a rich insight and exceptional skill.  His short film "Bear Tung", featuring Gary Farmer, was a selection in the 2011 National Museum of American Indian in NYC as well as the Santa fe independent film festival in October. Travis was born in Rama, Ontario: the second of two artist sons of acclaimed Aboriginal artist Arthur Shilling. Travis has exhibited since age 21 in Canada, Europe and the US. He travels between a studio in Rama and one in Toronto.
I just wanted to thank ANDPVA for the opportunity you gave me to showcase my crafts and jewelllery at the Saturday Market. I met some really great people, especially other artists and made some new friends. Keep up the good work! Emilie Corbiere

Hi Shandra,

 I just wanted to thank ANDPVA for todays terrific workshop on publishing with Kateri. I learned so much and will put this new information to good use.

Chi Miigwech!!!

Emilie Corbiere

Author, artist and storyteller
The RED Revue, Feb.25th

Bluntry and Western is good for you!!!

The RED Revue finds its inspiration in events that uncover the poetic aspect of life led by experimentation on stage. It also follows the diversity of artistic practice of vaudeville where theatre, music, literature, comedy, performance art, poetry and film shared the stage. Indigenous ideas of building community around creativity and creating avenues for transforming culture are what drive The RED Revue.

The RED Revue will take place on the fourth Friday of every month starting January 2011. We will hire one headline Band to shake, rattle and roll the audience into the late night. In addition, any Indigenous artist from any art form can sign up for the open mic. Feel free to stage a new work, a work in progress or old standards. The point is to experiment, to have fun and to test your stuff on a new audience. Lets all come together and share in this great imagining called Indigenous arts. Come and keep dancing our revolution.

Join the Night of the Living RED!!!!!

For more information contact:

David Deleary, Community Outreach Coordinator

How to Drown a Fish

ANDPVA presents a new series by Travis Shilling on the third and fourth floor of the Gladstone hotel. Join us this Thursday evening for Caramel corn, music and an exciting new series presented for the first time in Toronto.

How to drown a fish
A new series by Travis Shilling
Opening Thursday February 10, 7-9 pm

Travis Shilling could almost be called a paint chronicler. He captures the hidden in the visible––aftereffects and fallouts from events real and imagined. Shilling's series How to drown a fish, marks out territories of disaster and survival. Asking how one drowns a fish is asking the impossible because human and animal alike always adapt to inner and outer hardship. Still, people try to drown a fish everyday, through damaging the environment or self-destruction. A filmmaker and playwright, Travis' work reflects a rich insight and exceptional skill. His short film "Bear Tung", featuring Gary Farmer, was a selection in the 2011 National Museum of American Indian in NYC as well as the Santa fe independent film festival in October. Travis was born in Rama, Ontario: the second of two artist sons of acclaimed Aboriginal artist Arthur Shilling. Travis has exhibited since age 21 in Canada, Europe and the US. He travels between a studio in Rama and one in Toronto. www.travisshilling.com

andpva is Canada's oldest Indigenous arts service organization promoting, supporting, and presenting Indigenous arts. andpva.com

Badass blues with Six Nations roots

All youth between 16-24 invited to join leaderhip training Jan 14-16 & Jan 21&22, where we will gather oral stories from elders and train to respectfully retell through performance! Up to 21 Community Hours Credit avaiable for Toronto District School Board high school students!

Mark Tuesday, December 21st 6pm on your social calendar and come to the 21st Annual Kensington Market Festival of Lights to see the SKYWOMAN Shadow Puppet Performance by andpva's Indigenous Youth Leadership Team