Indigenous Arts Network Site Launch
Brief: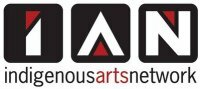 Launch of the Indigenous Arts Network
and other fabulous events!
FOR IMMEDIATE RELEASE:
Wednesday, August 5,
Influential Native Arts Organization Launches The Indigenous Arts Network!
TORONTO- National Arts Service organization the Association for Native Development in the Performing and Visual Arts proudly presents the official launch of its new Indigenous Arts Network/réseau d'artistes autochtones, on August 20, 2009 at 7 PM, at the Artscape Wychwood Barns in Toronto! 
"This is a significant moment for indigenous artists from all directions across Canada," says ANDPVA Executive Director Cynthia Lickers-Sage.
She adds, "The network is flexible and expandable, with artists sharing
their creative process in a wide variety of disciplines.  The
Indigenous Arts Network supports and promotes our community of working,
professional artists."
Audience members will be treated to an opening and blessing by Juno- and Dora-nominated Eddy Robinson of Toronto-based drum group Morningstar River, followed by the opening of Cree/Métis visual artist Jason Baerg's exciting new show, "Plain Truth: The RYBW Series."  Baerg's work is presented as part of ANDPVA's partnership with the Planet IndigenUs Festival.
The IAN/RAA launch will be part of a two-day series of events, including an international Indigenous artist's panel on August 19, 2009 at 7 PM, also co-presented with Planet IndigenUs, entitled "Bubbling Up:  Cultural and Creative Connections to Water."
"ANDPVA
has been working towards the recovery of culture and the reclamation of
identity through performance, literature and artistic expression," says
ANDPVA Board President Tannis Nielsen.  "We welcome you to join us as we celebrate our 'Indigenous Arts Network,' an important milestone in our artistic renaissance."
ANDPVA
is Canada's oldest Native arts service organization, providing support
to Native artists in Ontario and around the world. ANDPVA was
established in 1972, with a vision to demonstrate the rich traditional
heritage of Native people and to ensure that Native art was recognized
as contributing to the cultural fabric of Canadian society. Today,
ANDPVA supports the development of a self-sufficient community of
Indigenous arts who preserve traditional knowledge, advance cultural
identity and reflect evolving cultural expression. Find out more at andpva.com
We acknowledge the financial support of the Department of Canadian Heritage through the Canadian Culture Online Strategy/ Nous reconnaissons l'aide financière du gouvernement du Canada par l'entremise du programme Culture canadienne en ligne.
EVENT: INDIGENOUS ARTS NETWORK LAUNCH
DATE: AUGUST 20, 2009 AT 7 PM
LOCATION: ARTSCAPE WYCHWOOD BARNS, WYCHWOOD GALLERY, 601 CHRISTIE STREET, (GALLERY LOCATED AT THE CORNER OF WYCHWOOD & BENSON), TORONTO, ON
INFORMATION CONTACT:
 -30-
 For media interviews or more information, please contact J'net Cavanagh at The Association for Native Development in the Performing & Visual Arts at , , or
Wed, 06/10/2009 - 10:34 — ANDPVA
Login or register to post comments
I just wanted to thank ANDPVA for the opportunity you gave me to showcase my crafts and jewelllery at the Saturday Market. I met some really great people, especially other artists and made some new friends. Keep up the good work! Emilie Corbiere

Hi Shandra,

 I just wanted to thank ANDPVA for todays terrific workshop on publishing with Kateri. I learned so much and will put this new information to good use.

Chi Miigwech!!!

Emilie Corbiere

Author, artist and storyteller
Mark Tuesday, December 21st 6pm on your social calendar and come to the 21st Annual Kensington Market Festival of Lights to see the SKYWOMAN Shadow Puppet Performance by andpva's Indigenous Youth Leadership Team

andpva opens our Studio 171 doors 8am-noon alongside the Saturday Wychwood Barns Farmer's Market - Join us Dec 11 & 18 in time for holiday shopping!

We are delighted to have
been invited to partner with SLOW FOOD TORONTO and recruit Indigenous
musicians and artists to participate in the SLOW FOOD TORONTO
fundraising event this Friday, December 10th, 2010 6pm-9pm. If you social calendar is not too full, come on out
and join this delicious celebration.

The 7th Annual CIT Variety Showcase will be at the Native Canadian Centre of Toronto, ., on December 10, 2010,
with performances scheduled to start at 7 pm and run through to
9:30pm.  The evening is by donation and all are invited to attend.