Logo Contest!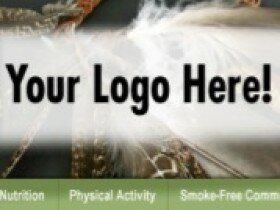 The Ontario First Nations Integrated Health Promotion Strategy needs a logo
 The OntarioFirst Nations 
Integrated Health Promotion Strategy 
Needs a logo for the website 
OURTIME.ORG
OURTIMEOURHEALTH.ORG
OURHEALTH.ORG
The site will be a resource for promoting Healthy Eating,Physical 
Activity and Smoking Cessation for First Nation Communities
Logo contest open to all First Nation citizens in Ontario!
All entries must :
Include the phrase 'Our Time, Our Health'
Depict the 3 components of healthy eating, activeliving, 
and smoke-free communities   
Files must be in jpeg format, 600x300 pixels 
Send your entries to Monica Mixemong -  
or mail in a hard copy to 
Chiefs of Ontario , Toronto ON, M5V 2H1
For further information, call Monica at or TollFree
Top 3 entries will be voted on at the Chiefs of Ontario 
Health Forum 
in Toronto - February 24th 2010!
FIRST PRIZE iPOD TOUCH
FIRST PRIZE iPOD TOUCH 
All submissions become property of the Chiefs OfOntario  
Deadline to submit entries is 
February 15, 2010 by 5 pm 
Mon, 01/25/2010 - 13:44 — ANDPVA
Login or register to post comments
I just wanted to thank ANDPVA for the opportunity you gave me to showcase my crafts and jewelllery at the Saturday Market. I met some really great people, especially other artists and made some new friends. Keep up the good work! Emilie Corbiere

Hi Shandra,

 I just wanted to thank ANDPVA for todays terrific workshop on publishing with Kateri. I learned so much and will put this new information to good use.

Chi Miigwech!!!

Emilie Corbiere

Author, artist and storyteller
Mark Tuesday, December 21st 6pm on your social calendar and come to the 21st Annual Kensington Market Festival of Lights to see the SKYWOMAN Shadow Puppet Performance by andpva's Indigenous Youth Leadership Team

andpva opens our Studio 171 doors 8am-noon alongside the Saturday Wychwood Barns Farmer's Market - Join us Dec 11 & 18 in time for holiday shopping!

We are delighted to have
been invited to partner with SLOW FOOD TORONTO and recruit Indigenous
musicians and artists to participate in the SLOW FOOD TORONTO
fundraising event this Friday, December 10th, 2010 6pm-9pm. If you social calendar is not too full, come on out
and join this delicious celebration.

The 7th Annual CIT Variety Showcase will be at the Native Canadian Centre of Toronto, ., on December 10, 2010,
with performances scheduled to start at 7 pm and run through to
9:30pm.  The evening is by donation and all are invited to attend.