Red Romance: A Two Step Program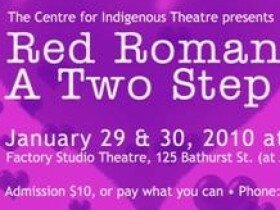 The Centre for Indigenous Theatre is proud to present Red Romance: A Two Step Program
For Immediate Release.
Toronto, ON. January 18, 2010.  The Centre for Indigenous Theatre is proud topresent our annual Story weaving Presentation entitled "Red Romance: A TwoStep Program", performed by our senior students featuring Carl BraveRock, Lisa Cromarty, Ryan Day Chief, Angela Loft, Justin Many Fingers, ShannonOlivier, and Raymond Weasel Moccasin.
Performers give us theirtake on love and romance in Red Romance: A Two Step Program. In thismusical production, they take us on a romantic journey through the goodand the bad, the cynical and the celebratory, the fantasy and the reality oflove.
Renowned actor, director,writer and choreographer, Muriel Miguel ( Spiderwoman Theater , New York) is a pioneer in the development of an Indigenous performance methodology. Sheguides the students through this collaborative and creative process to helpshape and lift their stories to the stage.  Muriel works as an instructorof Indigenous Performance at the Centre for Indigenous Theatre and isthe Program Director for the Summer Program in Lethbridge , AB.
Our production team is agroup of extremely skilled professional who have dynamic background in thearts, as well as a long standing relationship with CIT. Choreography isby Penny Couchie; Set and Lighting Design is by Andy Moro,with Costume Design by Leida Englar.  ProductionManagement is by Deborah Ratelle.
Join us January 29 and30, 2010 at the Factory Studio Theatre, (at Adelaide).  Show starts at 8:00pm, and admission is $10 or by donation.
For more informationplease contact:
Centre for IndigenousTheatre
Phone:
Fax: 
Email:
Mon, 01/25/2010 - 14:03 — ANDPVA
Login or register to post comments
I just wanted to thank ANDPVA for the opportunity you gave me to showcase my crafts and jewelllery at the Saturday Market. I met some really great people, especially other artists and made some new friends. Keep up the good work! Emilie Corbiere

Hi Shandra,

 I just wanted to thank ANDPVA for todays terrific workshop on publishing with Kateri. I learned so much and will put this new information to good use.

Chi Miigwech!!!

Emilie Corbiere

Author, artist and storyteller
Mark Tuesday, December 21st 6pm on your social calendar and come to the 21st Annual Kensington Market Festival of Lights to see the SKYWOMAN Shadow Puppet Performance by andpva's Indigenous Youth Leadership Team

andpva opens our Studio 171 doors 8am-noon alongside the Saturday Wychwood Barns Farmer's Market - Join us Dec 11 & 18 in time for holiday shopping!

We are delighted to have
been invited to partner with SLOW FOOD TORONTO and recruit Indigenous
musicians and artists to participate in the SLOW FOOD TORONTO
fundraising event this Friday, December 10th, 2010 6pm-9pm. If you social calendar is not too full, come on out
and join this delicious celebration.

The 7th Annual CIT Variety Showcase will be at the Native Canadian Centre of Toronto, ., on December 10, 2010,
with performances scheduled to start at 7 pm and run through to
9:30pm.  The evening is by donation and all are invited to attend.