Woodland Centre this weekend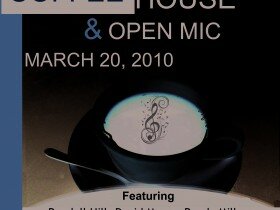 Full Day of Events March 20th , 2010
Please help us spread the word! See the attachedposters.
DiscoverYour Voice - through sound and word with singer/songwriter Cheri Maracle
11am - 3pm
The workshop will allow you to create your own songby connecting to your authentic sound through breathing exercises.
CoffeeHouse and Open Mic
7-11pm
Featuring: Randell Hill, David Moses, Randy Miller,Cheri Maracle & Becky Miller
There are open spaces available to perform, pleasecall to register!
Thank you for the help! Come out for a great day atthe Woodland Cultural Centre.
Serene Porter
Administrative Officer
Woodland Cultural Centre
Brantford, ON   N3T 5V6
T:   F:
35th Anniversary First Nations Art 2010
Deadline for Artwork Submission April 11, 2010
(contact Woodland for more information)
Exhibition Opening Reception May 21st @ 7pm
Fri, 03/19/2010 - 14:11 — ANDPVA
Login or register to post comments
I just wanted to thank ANDPVA for the opportunity you gave me to showcase my crafts and jewelllery at the Saturday Market. I met some really great people, especially other artists and made some new friends. Keep up the good work! Emilie Corbiere

Hi Shandra,

 I just wanted to thank ANDPVA for todays terrific workshop on publishing with Kateri. I learned so much and will put this new information to good use.

Chi Miigwech!!!

Emilie Corbiere

Author, artist and storyteller
Mark Tuesday, December 21st 6pm on your social calendar and come to the 21st Annual Kensington Market Festival of Lights to see the SKYWOMAN Shadow Puppet Performance by andpva's Indigenous Youth Leadership Team

andpva opens our Studio 171 doors 8am-noon alongside the Saturday Wychwood Barns Farmer's Market - Join us Dec 11 & 18 in time for holiday shopping!

We are delighted to have
been invited to partner with SLOW FOOD TORONTO and recruit Indigenous
musicians and artists to participate in the SLOW FOOD TORONTO
fundraising event this Friday, December 10th, 2010 6pm-9pm. If you social calendar is not too full, come on out
and join this delicious celebration.

The 7th Annual CIT Variety Showcase will be at the Native Canadian Centre of Toronto, ., on December 10, 2010,
with performances scheduled to start at 7 pm and run through to
9:30pm.  The evening is by donation and all are invited to attend.