From The Spirit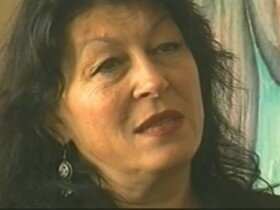 Featuring the work and poetry of LauraLee K Harris
FOR IMMEDIATE RELEASE:
APRIL 6, 2010
TORONTO - The national premiere of From The Spirit, adocumentary that features the work and poetry of LauraLee K Harris will airApril 21, 2010 at 7PM on the Bravo Network!
From producer Earth Magic Media Productions, From The Spirittells the story of First Nation mixed blood artist Harris and her artisticpractice. The documentary not only documents a collection of Harris' workspanning over a decade, but also tells of Harris' life story from her earliestbeginnings. The film tells how she developed a unique painting process, whichallows the life experience of trees to be told through her brush and poetry.She incorporates the use of the tree's wood grain to tell a story about theexperience of nature, using acrylic washes of colour to expand and embellishthe imagery provided by the wood.
"The work featured in the documentary spans a huge chapterof my personal experience, it shares the story of self-discovery, finding rootsand seeking community," says Harris. She adds, "I'm honoured to have thedocumentary air nationally and I look forward to showing the new Series of workI have just completed this year."
Harris' and her creative technique have since been studiedin Ontario Secondary Schools as Canadian Content, Art's Curriculum and inpublic presentations of her work. Harris aims to share her work and creativeprocess in workshops to a larger community in an effort to educate and raiseawareness around the spiritual and physically healing relationship of nature.Her new work The Poetry in Trees includes 30 paintings with accompanying textand a published catalogue of Harris' paintings and poetry.
Harris was born in Toronto and is of mixed blood ancestry.Drawing all her life, she began painting in 1982. Her work has been shownnationally and internationally and has won numerous awards nationally andinternationally. Harris has also created site-specific artworks for publicspaces including the Buffalo Fort Erie Peace Bridge, has been published innumerous books, catalogues and periodicals. Her Work can be viewed atlauraleekharris.com
Documentary Synopsis: Harris discovered, through an uncle,that her "French" Grandfather was also Sioux, Cree, Chipewyan, Ojibwe andMontagnais. Her unique paintings are done on wood, utilizing and incorporatingthe natural grain to create beautiful organic works. (See Clip)  
-30-
For more information or to schedule an interview, pleasecontact: Harmony Rice at Roots & Rights Media at or emailrootsandrights[at]gmail.com
Wed, 04/07/2010 - 10:08 — ANDPVA
Login or register to post comments
I just wanted to thank ANDPVA for the opportunity you gave me to showcase my crafts and jewelllery at the Saturday Market. I met some really great people, especially other artists and made some new friends. Keep up the good work! Emilie Corbiere

Hi Shandra,

 I just wanted to thank ANDPVA for todays terrific workshop on publishing with Kateri. I learned so much and will put this new information to good use.

Chi Miigwech!!!

Emilie Corbiere

Author, artist and storyteller
Mark Tuesday, December 21st 6pm on your social calendar and come to the 21st Annual Kensington Market Festival of Lights to see the SKYWOMAN Shadow Puppet Performance by andpva's Indigenous Youth Leadership Team

andpva opens our Studio 171 doors 8am-noon alongside the Saturday Wychwood Barns Farmer's Market - Join us Dec 11 & 18 in time for holiday shopping!

We are delighted to have
been invited to partner with SLOW FOOD TORONTO and recruit Indigenous
musicians and artists to participate in the SLOW FOOD TORONTO
fundraising event this Friday, December 10th, 2010 6pm-9pm. If you social calendar is not too full, come on out
and join this delicious celebration.

The 7th Annual CIT Variety Showcase will be at the Native Canadian Centre of Toronto, ., on December 10, 2010,
with performances scheduled to start at 7 pm and run through to
9:30pm.  The evening is by donation and all are invited to attend.